Make Your AI Even Smarter With Speech Data from Geg traduction
There is a lot of information about 'intelligent machines', but this is only the beginning of the real potential of Artificial Intelligence (AI). According to some experts, its advancement yet lags the hype.
We used to think of AI as a jack-of-all-trades that knows everything and does everything better than an average human being. But there are many fields in which AI is still taking baby steps toward the widespread notion we share about it. For example, the human brain can detect and sort out different sounds with ease – we often don't even break a sweat to do so – but dealing with speech data for artificial intelligence is still a hard nut to crack, which troubles it a lot.
How come?
People have come a long way that took us millions of years to develop a knack for telling the scrunch of gravel from the whirring sound of fallen leaves under a predator's light step. And to cram those millions of years of human evolution into a few years for our eager-to-help machines, we have to feed them enormous amounts of audio data.
When audio-based machine learning systems quench their thirst for audio knowledge, they will be as good as we are – or even better – at recognizing audio input. Potentially, it will be the beginning of a new era for the smartest virtual assistants we've ever dealt with.
When audio-based machine learning systems quench their thirst for audio knowledge, they will be as good as we are – or even better – at recognizing audio input. Potentially, it will be the beginning of a new era for the smartest virtual assistants we've ever dealt with.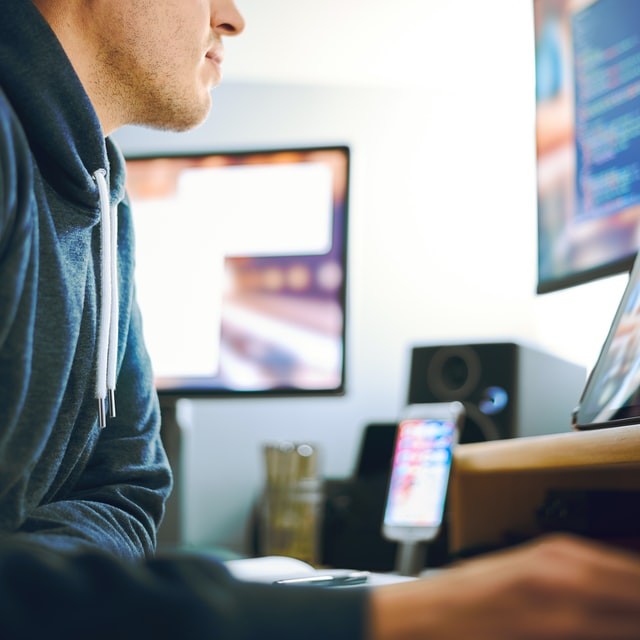 That's how Geg traduction makes your AI smarter:
We have an integrated service which includes audio data collection, entry quality control, and data commentary
Our languages and dialects coverage is quite literally global. We work with experts who are native in 150+ languages and dialects, from the most widely spoken (English, French, Spanish, Russian, Chinese, Portuguese, Arabic, Italian, German, etc) to relatively rare (Bikol, Rohingya, Chuukese, etc)
Up-to-date data collection methods mean delivering smart and precise results in less time
---
You need audio data… lots of it… This is where we step in!
This is what you get if you partner with Geg traduction :

Speech data of a high quality to make your development of voice-enabled technology a breeze

Audio environment set up so your AI would understand voice command in various real-life situations, even the challenging ones

Data collection literally from around the world. Native speakers from 150+ countries join forces to furnish the speech data you need
---
Audio data for machine learning
For humans, practice makes perfect. For AI, it's all about the body of data it can have access to. The more data you feed it, the better the results will be. The quality of audio data for machine learning is also important as it gives an edge to your automatic speech recognition system letting it understand human speech better.
Therefore, Geg traduction provides your ASR system exactly with what is needs – a trove of useful speech data in over 150 languages and dialects which is both massive and high-quality.
Improve, train, and create your voice-enabled applications
Geg traduction can improve accuracy for ASR systems using speech data of a multicultural pool of speakers, teach virtual assistants to recognize human speech in a variety of languages, settings, and contributing factors; and help you create text-to-speech applications that can produce true-to-life speech in multiple languages.

---
We offer you the audio data collection including:
Comprehensive linguistic and cultural learning
Access to the pool of native speakers
Both on-site and distant speech recording
Transcription and review of the data collected
Quality assurance and project control
Our experience in speech data collection allows us to offer the most cost-effective solution in this field. Contact us to get a free quote for your project.
Get in touch with us today!
---
Multilingual Speech Data Collection Services
Geg traduction provides speech data collection services in all major languages and dialects. We work with our partners locally and remotely, from all over the world. Some of our most popular languages include:
English (British, American, Hispanic, Canadian, South African, Australian, etc)
Chinese (Mandarin, Min, Wu, Yue, etc)
French (Standard, Canadian, Quebec, Belgian, African, etc)
German (Standard, Swiss, Hunsrik, etc)
Italian (Standard, Swiss, Tuscan, etc)
Portuguese (Standard, Brazilian, African, etc)
Spanish (Standard, Latin American, African, etc)
Arabic
Russian
---
We Collect Audio Data for Largest Global Companies
Geg traduction works with many global corporations (Nuance Communications, Amazon) to collect audio data for machine learning and improve voice-enabled applications they develop. Teaming up with Geg opens the way to tap into a community of language professionals, native speakers and project coordinators who are well-positioned to do a collection of speech data.
Geg is a well-established translation agency with a vast audio database which could be converted into an audio data collection for your AI. Using our audio playground, it will evolve the powers of the language and voice recognition. Geg provides audio data for machine learning so your speech recognition software can become better, smarter, well-worked, but even more to the point, pitch-perfect.
Why Geg traduction ?
Geg traduction has expertise in translation, localization and other language solutions for corporate, government and private sector clients. We respect our clients' deadlines and budgets offering professional services in 150+ languages and dialects.
At Geg, we have a proven track record of providing high-quality linguistic services that exceed international quality standards.
Our main goal is to provide high-quality translation services and solutions that are stress-free, budget-saving, and cost-effective.
Get in touch with us today to find out more!